My latest project involves using rain barrels to collect water for irrigating my lawns and flower beds during dry patches. The concept is one I've been doodling about since I was in grade 5. Obsessed with pumps and pipes, I would often adorn lined sheets of loose leaf paper with circuit and flow diagrams depicting elaborate fluid transfer systems for an imaginary underground sprinkler system I have not yet been allowed to install in the lawn at my parent's house.
Since that time, I've installed (real) underground sprinklers in both of the houses I've owned, and recently my Father told me he wants to get rid of all of his rain barrels. Happy to take some off his hands, I began setting up a few of them around the house to collect rainfall from the down spouts (with the Aesthetics Committee's approval, of course) and soon had a number of rain barrels full of crystal clear rain water. For the past couple of weeks I've been watering my indoor plants with rain water, along with two beds of sunflowers the kids and I planted out back of the garage, but soon I realized that I had far too much water, for just these uses, and much more of it coming in. The little boy in me started longing for a pump.
Several weeks ago, I came across just such a thing in the metal recycle bin at work. Eager to try to fix it, I collected it and my son and I took it apart, studying how it works and proceeded to clean it out and fix it up. Within a few hours we were spraying water out a hose and watching it flow from one bucket to another. (Not knowing what liquids this pump had been used to transfer, I did not want to contaminate all of my water supply.) After the pump had been tested and cleaned out sufficiently, we then used it to transfer the contents of the rain barrel under a down spout to other barrels I set up under the deck to act as additional storage.
Having all this stored rain water was great, but it was clear from our transfer experiment that the pump I had would not be up to the task of doing much of anything else with water. It was slow, didn't really generate any pressure, and clearly was not designed for this task or environment. I began to research other pump options: Princess Auto had a sprinkler pump for $200 so I began to make plans to incorporate rain water into my irrigation system.
Then a stroke of good fortune hit: I was walking around a Home Depot, searching out the right components to make the water connections to the rain barrels when I stumbled across the pump isle. Traditionally reserved for farms and cottages, I suppose, they carry a variety of jet pumps and even some deep well submersible units. Prices were in the range I was expecting, $200 – $400. Then one item on the bottom shelf caught my eye: It appeared to be a 1/2 Horsepower jet pump with a 6 gallon tank. I've seen these used for shallow wells, they typically lift up to 25′ of water and the pressure tank (of this size) generally provides enough of a buffer to keep the pump off for short bursts of teeth brushing and hand washing activities.
The price looked off: $101.96. I looked closer to make sure I was reading it correctly. It was sandwiched between two other 3/4 HP jet pumps without tanks, each of which was over $350. "There can't be that much difference in cost between a 1/2 HP and 3/4 HP motor, and the tank itself has to be worth at least the hundred dollars", I thought to myself. I resumed searching out the fittings and connections I needed but the more I thought about it the more I realized that the little pump was perfect for my application, and at that price, you can barely buy a small fountain pump, let alone a 50 PSI jet pump… I decided to take a chance on it and made the purchase.
When I looked up the pump on the Home Depot web site, their list price on this unit was $479.96! Total savings: $378. I couldn't make that up. So I went back and bought the rest of them! The pump comes with a pressure switch, a pressure gauge, the 1/2 HP 120/240V jet pump and motor, and a bright blue 6 gallon pressure tank attached with a very nice looking steel braided hose.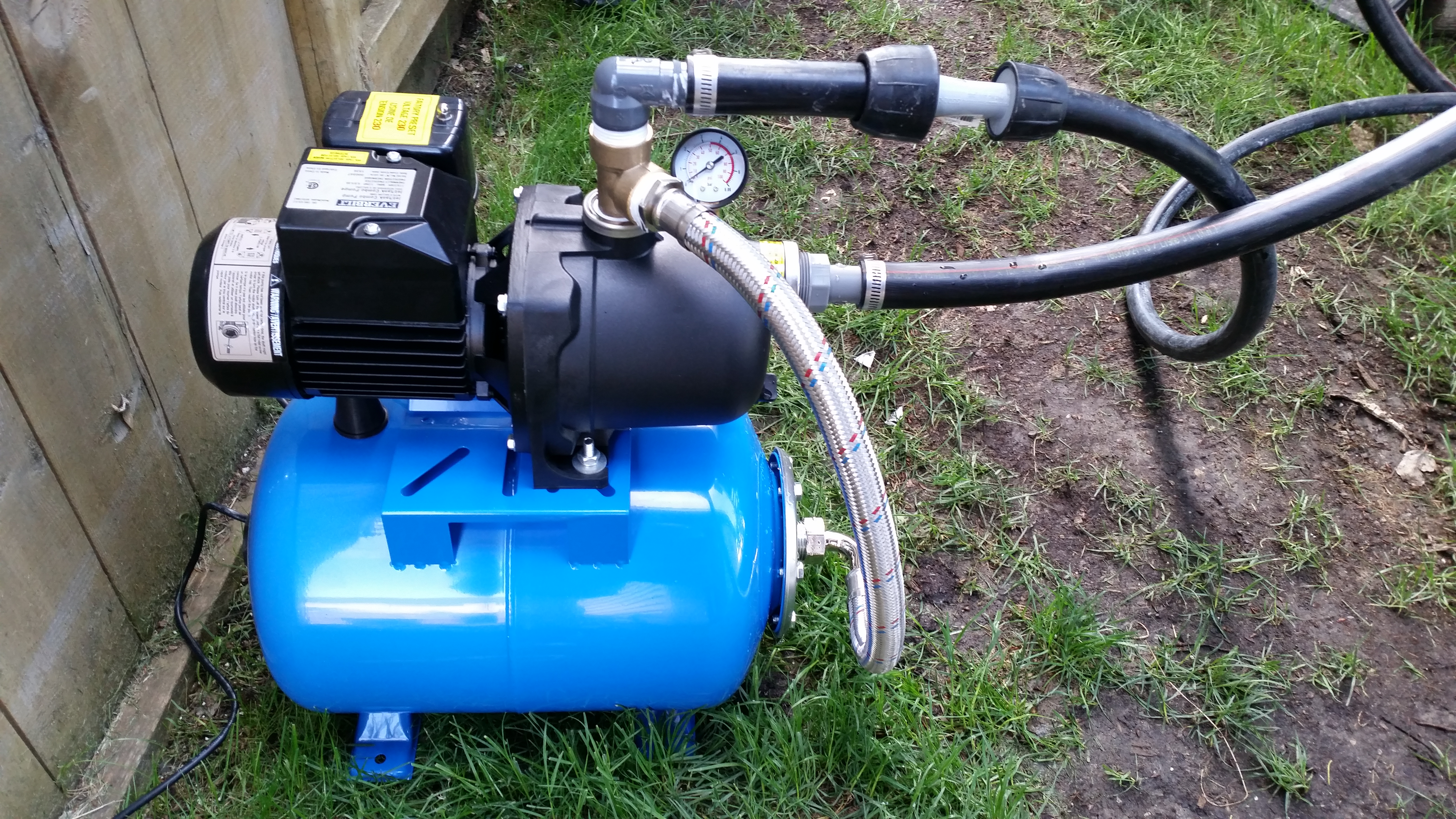 To test it out, I connected up 100′ of 1″ poly to the intake side, simulating a very heavy lift. I also attached about 30′ of 3/4″ poly to the output side followed by a hose bib conversion before attaching my 100′ garden hose. After priming the pump, if whirred away and ran my spray noozle just fine on all settings, only it was providing rain water, not city water, for our newly planted beds, boxes and baskets. I was simply thrilled! What a great bargain! (Oh, and yes – it was brand new, in the box, and included a 1 year warranty!) I have no idea why there was such a discrepancy between Home Depot's web site price and the shelf price, but I certainly wasn't about to ask any questions.
Now I need to plumb all of my rain barrels together, and then tie them all together for running the underground sprinklers. Since my collection barrel is a lot lower than the storage barrels under the deck, I believe I will install a check valve at the barrel and then run a 1″ line up to the pump farm under the deck. This pump doesn't require a tank, so I will probably remove it and just use the pump. With a couple of float switches in the barrel I can monitor it's level and when it gets full, activate the pump to transfer water from it up to the storage barrels under the deck. The storage barrels, by contrast, will be connected to the sprinkler pump which will supply water to the main sprinkler line through a filter to make sure the heads don't get clogged if there is sediment or debris in the water. So far though, I've been very careful to strain the water going into the barrels through some landscape fabric which has kept out a significant amount of shingle grit and tree buds. With a strainer or two, the sprinklers shouldn't even notice the difference. With a couple of AC presence monitors I can keep track of when the pump is running, and perhaps tweak the zone activations to reduce pump cycling, if it occurs. If we get into a dry spell I can always fill the storage barrels from the house water supply with a garden hose or really – can reconnect the sprinklers to the house water supply at any time if this system does not work out. We've been getting a lot of rain this last two weeks though, so if I act quickly enough and can fill the rain barrels off it, we'll see how long into the summer we can go without watering our lawn through our water meter!